Kia Near Rio Rancho Unveils Their Top Pick Models for College Students
---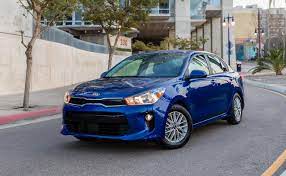 Most college students are busy preparing themselves for the bright future ahead: a good-paying job, a new place of residence, and a fresh start in life. Of course, it is equally essential for these upcoming young professionals to get a reliable set of wheels to help them get to their destination. To help you shop for your next car, Kia near Rio Rancho releases their top pick models for college students.
2021 Kia Soul
Don't let its unusual shape fool you–it is named one of the best cars for college graduates in the recent Autotrader report due to its affordable price, fantastic warranty coverage, and a very roomy interior. Both quirky and practical, the 2021 Kia Soul has its personality. In addition, the Insurance Institute for Highway Safety (IIHS) chose the 2021 Kia Soul as their Top Safety Pick when equipped with the optional Forward Collision Avoidance-Assist technology and LED headlights.
2020 Kia Forte
It is easy to see why the 2021 Kia Forte makes it on this list: it is compact, has an excellent safety score from IIHS, has excellent fuel economy, and has a very affordable price tag. Moreover, the 2020 Kia Forte is ranked as the most dependable vehicle by J.D. Power. It means you are less likely to spend money on unexpected repairs or waste valuable time arguing why you are late for work with your new boss.
2018 Kia Optima
If you ask people who prefer mid-sized sedans, the 2018 Kia Optima should be on top of your list. It is far cheaper than its rivals, having a sticker price of less than $20,000. The interior cabin is also roomier compared to other sedans. The 2018 Kia Optima is equipped with essential technologies which may not excite the tech-savvy. However, the 2018 Kia Optima puts practicality and reliability over added features that you might not use.
2021 Kia Seltos
A small SUV for the style-conscious, its exterior is designed to turn heads while you are on the road. However, its best attributes are found in its interior. The 2021 Kia Seltos offers an 8-inch infotainment touch screen that gives the driver seamless access to its numerous features. For a bit of money, you can upgrade this model to GT-Line grade and get premium features like a bigger screen (10.5-inch), an integrated sound system, and fast wireless charging feature that will allow you to recharge your smart devices when you need it quickly.
2021 Kia Sedona
Probably the most prominent vehicle on this list, the 2021 Kia Sedona is a nice-looking van with a low sticker price. While some might think that college students don't have any use for a van, they'll be in for a nasty surprise when they cannot fit their prized possessions in their compact or sedan as they move about. The 2021 Kia Sedona's roomy interior and adjustable seats can come in handy. To get the most out of your money, try to upgrade from the base model to the EX-grade, as it offers more high-tech safety features like automated emergency braking.
If you are still unsure which Kia model to buy, check out Fiesta Kia for more helpful tips.